What's new (part 2)
4th, 5th and 6th June -- First, I've got the proud name of uncle :)... Second, the big event of the turt/tort exhibition might have killed me (well I drove through Hradec Králové, nearly sleeping and lightly bruised the pavement by one wheel). So I came there and got OK in Sunday...
The exhibition was a good success with about 1.000 visitors -- and the education of public nicely worked. I have really many pictures, I need them just put in some order ... Just some: Kachuga, wonderful Sacalia bealei... I am going to add more.
. . .
March to July -- Unfortunatelly, I am overloaded by work and many other things :-( (I am trying to do a lot in preparation of exhibition, I am relatively active in TAI list, TT list and so on.)..
... No new articles, though interesting things continue to happen. A planned reorganization of the web is still delayed and postponed.... (resp. I work on it pro forma, but veeeery slowly)...
. . .
20th February 1999 -- I wrote my chelonian CV by the ocassion of being chosen as a TortoiseAid International regional advisor for Europe.
. . .
4th February 1999 -- I have completed few new pictures, unfortunatelly not all perfect. I really dislike this winter and look forward to a spring :-) So -- at first, a portrait photo of sleeping Patrik, mini-serie with a monster, following picture is an evidence how she slipped into the ante-room and made her own order in shoes within few seconds :-)) Two pictures describing a beauty of winter sun low above the horizon, and her strength at noon ... Plus two other photos taken in ZOO. (Click to enlarge)
. . .
On a request of frogg lovers (mostly of Katka's -- at a first picture in the turtle hall) I am proud to present here few pictures of our quackers Dough, Caine and Abel... (Click to enlarge)
. . .
December 1998 -- I fought a whole month with a very serious disease of the snapper called Kryspin. Such bad he looked ... lost almost 1/5 of his weight ... a view to a quarantine corner ... This is not a dead turtle at the picture no matter how close to dead it looks... He has healed successfully :-)) (Click to enlarge)
. . .
20th October 1998 -- Few pictures to show something new: Julie eating zucchini but a newspaper, too (she is omnivorous); the same tortoise outdoors, a male Karel in action (I have returned him to his owner), at the next picture with all limbs in motion, back to setting the tank for red-eared sliders up (Click to enlarge)
. . .
15th October 1998 -- Yahooo!!! A new domain is in function, www.zelvy.cz, as well as www.zelva.cz.... And for Chelonian Club -- www.kchz.cz...
. . .
25th September 1998 -- A new meeting of Chelonian Keepers Club was in the same time and location (in ZOO Prague) as the Ceremonial of Opening of a New Giant Tortoises' Building. Due to this, a program was greatly reduced.... I must had been there and had to make few pictures (tortoises and I, Katerina, different members of KCHZ): (Click to enlarge)
. . .
23rd August 1998 -- Pages was recreated to a new design without frames (@#$@#$!), with only a few tables (oh no!). Increased speed and lucidity is remarkable.
. . .
21st August 1998 -- I got the necropsy result for my Adelka. Death by drawning, in gut and kidneys found Citrobacteria freundii and Aeromonas hydrophila, not too serious (maybe even symbiotical). Anyway, I am trying to get rid of it by application of Betadine into water, cca 1:100 (7.5% dilute). After a discussion with Dr. Voprsalek I admit that the cause might be the epilepsy or a hear collapse followed with drawning (a pink liquid in lungs with no lungs' edem).
. . .
18th August 1998 -- Today this pages got a "Link of the day" award in Czech rating server KUDYKAM (by PinkNET). Content - 6/6, look - 2/6. Little bit later should be the latter result higher -- I am just working on a new graphic design.
. . .
10th August 1998 -- Adelka, my favorite turtle, drowned today... She was stuck in her cage and was not able to raise. I found her too late. I am so hurt...
. . .
2nd August 1998 -- I have returned from a wonderful trip to Moravia. My brother's wife Barbora (she is an archeologist / egyptologist) found something interesting in the monography about the architect Giovanni Santini who was the greatest baroque architect here. There are three of his most famous works -- a cathedral in the shape of Star (protected by UNESCO), a church in shape of Lyre and one in a shape of Tortoise. She told me and I had to visit and see this.
Well we found the vicar there and got inside. It was a great experience, inside structure of the church is more impressive (in the shape of turtle) than the photographs taken from the plane, printed in the book and shown, as well as the details about the church, in a page of interesting info about turtles.
. . .
22nd July 1998 -- The checklist of turtles' species and subspecies was recreated and actualised!
. . .
17th June 1998 -- I have eggs in an incubator -- Boban (1) and Jindřich (4) were laying -- unfortunately they laid most of eggs in water -- only two remained unbroken.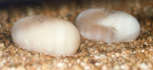 . . .
I visited the ZOO in Plzeň even twice in April and May. I like their reptiles' pavilons. Besides a perfect chelonians they have for example a pair of Komodo dragons. Photos show Geoemyda spengleri (what a face!), Geoclemmys hamiltoni, mating of my favorite helmeted terrapins and (not a perfect) photo of their South American relative Podocnemis unifilis. (Click = larger picture)
. . .
At Easter 1998 we were in Amsterdam ZOO (Artis). Of course I have couple photos to share: Mating of box turtles, Geochelone carbonaria -- a view from eyes to eyes. I can post here some else, if you want to. (Click = larger picture)
. . .
I've translated a nice fable.
. . .
I've created a new listserve regarding turtles, in Czech language. I've added little bit info about Club of Czech chelonian breeders.
. . .
We were in Budapest ZOO (Allátkert) where some snapshots were taken: Me and African spurred tortoises, spurred - detail, European pond turtle, mass of Spur-thighed tortoises. (Click = larger picture)
. . .
Well, I purchased five new turtles - three of them are helmeted turtles (Pelomedusa subrufa). They are not able to swim, so they shuffle around - they have small paws and big heads. They swallow the whole pieces of food so I have to offer them those which will not choke them to death. We call them: Lojza (male), females (probably) are Adéla and Amálka. Next turtle is the common snapper (Chelydra serpentina), named Kryšpín. The last one is a very small hatchling of alligator snapping turtle (Macroclemmys temmincki), named Leon.
. . .
By the occasion of International herpetological congres between 1st and 10th of August 1997 were held an exhibition of amphibians and reptiles in Herpetological society in Prague. Yes there were turtles! Ms. Velenská was presenting a hatchling of Russian tortoise, some common snapper, Pyxidea mouhoti, otherwise all the European species (because of congres). Tasteful and nice.
. . .
-- The page was getting too large and it took too much time to load all pictures. So I have divided it to two parts -- the newer part is here (www.zelvy.cz/news.html)