Želva zelenavá (to je vzhledem ke zbarvení zcela nesmyslné jméno) patří k nejběžněji chovaným želvám u nás. Její rozšíření ukazuje mapka. Ačkoli jsou tyto želvy velmi podobné želvě žlutohnědé, odlišují se chybějícími ostruhami na nohou, mají (zpravidla) párový nadocasní štítek a dlouhý, úzký krční štítek. Dosahují menší velikosti, jejich krunýř je klenutější. Ocas je zakončen rohovinovým bodcem (obrázek níže) přítomným u obou pohlaví. Mají samozřejmě pět prstů na každé noze. Samci mají dovnitř prohnutý plastron a delší a tlustší ocas než samice.
Hermann's tortoise is one of the most commonly kept tortoises in our country. They are found in places shown in the map. Though these tortoises are very similar to spur-thighed tortoise, they lack the thigh tubercles, have (mostly) divided supracaudal scute mostly and have a long, narrow nuchal scute. They have a smaller adult size and their carapace is more domed. They have the tail ending with a horny claw-like tip (in the picture below) in both sexes. Of course they have five claws on each limb. The male has a concaved plastron and longer and thicker tail than the female.
Velikost dospělé želvy je zhruba 15 cm u samice, 13 cm u samce. Želvy se probouzejí v březnu a ukládají k spánku zhruba koncem října. Dosahují dospělosti po sedmém roce. Samice klade od jednoho do pěti podlouhlých, narůžovělých vajec.
The measurements of the adult tortoise is about 6 inches for a female and about 5 inches for a male. The tortoises awake from hibernation in March and prepare to hibernate approximately at the end of October. They reach maturity after the 7th year. The female lays from one to five elongated, pinkish eggs.
Jídelníček této želvy je velmi podobný jídelníčku želvy čtyřprsté, občas ale s malinko zvláštními chutěmi. I pro ně doporučuji nejpestřejší možnou skladbu stravy. Vodu zřídka pijí, rozhodně ale neustávejte v jejím nabízení. Doporučuje se tuto želvu v zajetí zazimovat.
The diet of this tortoise is very similar to the Russian (Afghan) tortoise, sometimes with slightly odd apetites. Also the most possible variety in feeding is recommended. They drink water rarely, but keep offering it to them. It is recommended to let this turtle hibernate when kept.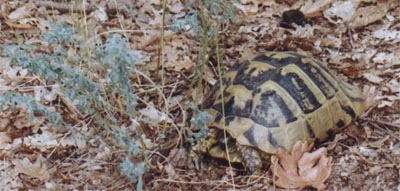 Testudo graeca ibera, Melnik, jihozápad Bulharska, konec léta 1999, foto (c) David Krumphanzl
Testudo graeca ibera, Melnik, southwest Bulgaria, summer 1999, photo (c) David Krumphanzl



Koncem léta 1999 jsem se vydal do Bulharska, krátkou zprávu o želví populaci jsem rozpracoval (ach, jak pomalu to pokračuje ...) na této adrese. Z léta 2001 mám nachystanou reportáž o želvách v Bosně a Hercegovině.
At the end of summer 1999 I have visited Bulgaria, a short report about the tortoise population is here (I am sorry for a very poor progress ...). I plan to add a report about the tortoises in Bosnia et Hercegovina, summer 2001.
Moje švagrová se přítelem před nedávnem vydali do Itálie podívat se na slavné renesanční zahrady. Nedaleko Říma našli jednu želvu zelenavou (řeckou), jak se vyjádřili, "aspoň sto let starou, hrozně vrásčitou a obroušenou" v husté trávě.
My sister-in-law recently visited Italy to see the famous renaissance gardens, and found, not far from Rome, one Hermann's tortoise, as she said, "at least 100 years old, very wrinkled and grinded off" in a dense grass.